There is a wealth of Strategic Planning content here, developed over the years from very successful entrepreneurs, corporate executives, marketing professionals and some incredibly talented sales managers. In addition, Ryan Hixenbaugh spent years in the Advertising Agency business prior to starting Stratcom, a strategic planning and outsource marketing service.

The Site includes some of the basics of Strategic Planning, as well as advanced thinking that may spark for your own planning. Ideas lead to ideas.

The content is for sharing. It certainly isn't ours alone, but comes from many other thinkers, most of which we've tried to attribute. Use the information or add to it and debate it with the Facebook link to RyanHixenbaugh.

Bookmark the site or send the link to others on your management team.
Feel free to link to the site using www.RyanHixenbaugh.com

If you like the thinking or need additional help, contact Ryan with comments, questions OR to add talent to YOUR Team.
---


Each year companies undertake several major planning exercises.
The Sales Team builds a Sales Forecast.
Based on that forecast, the Executive Team establishes a Budget Plan.

The third major program is the Strategic Plan. This plan assesses the markets and competitors, internal resources and capabilities and external influences to establish a strategic approach to growing the business.

An MBA Program will illustrate the Strategic Planning Process as: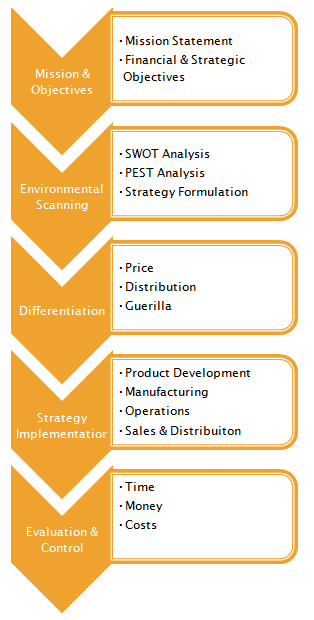 The mission statement and setting objectives are commonplace activities.
Most folks are familiar with the SWOT and PEST Analysis that make up the Environmental Scan. A refresher is listed below.


---
Environmental Scan
This is a way of reviewing the company both internally and the larger marketplace externally.
Strengths and Weaknesses are internal factors and considers capital, credit, cash, R&D, manufacturing, shipping, the sales organization, marketing, human resources etc.
Opportunities and Threats focus on external factors such as demand, competition, advancing technology and trends. An analysis summary may look like this with the boxes filled.
| | | |
| --- | --- | --- |
| Attribute | Strength | Weakness |
| Brand Equity | | |
| Product Delivery | | |
| Patents | | |
| Manufacturing/Shipping | | |
| Product Lifecycle | | |
| Proprietary Cost Advantage | | |
| Sales Organization | | |
| Distribution | | |
| | | |
| --- | --- | --- |
| Attribute | Opportunity | Threat |
| Demand | | |
| Technology | | |
| Regulatory Environment | | |
| Substitutions | | |
| Market Trends | | |
| Weather | | |
Once you've identified and evaluated the SWOT elements, you can prioritize the strategic significant with a TOWS Matrix.
| | | |
| --- | --- | --- |
| | Strengths | Weaknesses |
| Opportunities | Strength/Opportunities | Weakness/Opportunity |
| Threats | Strength/Threat | Weakness/Threat |
SWOT Strategic Analysis
Strength/Opportunity Strategies
High Potential Opportunities
Weakness/Opportunity Strategies
Plan to address internal weakness
Strength/Threat Strategies
Apply strengths to manage external vulnerability
Weakness/Threat Strategies
High vulnerability and risk external threat
Establish defensive plan
---
PEST Analysis (Political, Economic, Social, Technological)
A second part of the Environmental Scan is the PEST Analysis considering:
Political Factors
Political Stability or Party Agendas
Environmental Regulations
Trade Restrictions & Tariffs
Labor Laws & Minimum Wage
Tax Policies

Political factors today will be affecting:

The oil industry as the BP spill resolves

Changes in access and reimbursement to healthcare

Changing regulations in Securities and Banking

Changing laws on marijuana use.
Economic Factors
Economic Growth
Interest Rates
Exchange Rates
Inflation Rates

Economic factors are a consideration today for:

Credit with the current budget deficits

Current unemployment levels

The changing fortunes of Baby Boomers entering retirement

The tax consequence of budget deficits
Social Factors
Baby Boom Affect
Generational Attributes
Health Trends
Health Consciousness

Social Factors for consideration are:

The growth and affect of social networking

E-commerce

The affect on labor and families with fewer men attending college

Boomers in retirement
Technological Factors
Rate of Technological Change
The reduced price affect of technology
The increased rate of adoption for technology
R&D Activity
Government technology incentives

Technological Factors active in the marketplace include:

The shifting market positions of Microsoft, Google & Apple

The shift towards cloud computing

Electric vehicles & alternative fuels

The integration of computerization & everything
---
Strategic Touch Points
Stratcom developed the following elements for a National Sales Strategic Plan. (Regional Plans and Rollouts have a different though similar emphasis).

Some companies have the reporting for this analysis and have already made use of it in their daily operations. Others have not. Focus on what you haven't accessed. That's where the discussion and work will lead to real gains.

As a step by step process to establishing a strategic plan, Stratcom follows this critical path method to quickly ramp up and pinpoint critical areas and strategic opportunities. These items will help facilitate your SWOT and PEST Analysis.

These are the key touch points in Strategic Planning.
Statistical Sales Performance Review
LY Sales Nationally
Current Year Growth Objective
Percentage Sales to Plan
Number of Accounts
National Average Annual Sales Figure
National Mean Annual Sales Figure
Run the same statistics by territory
Marketplace Review
Market Size by Distribution Channel
Competitive Market Shares
Product Status
Is this a differentiated or commodity product?
Is there established demand?
It this an emerging industry (primary demand) or a mature industry (secondary demand)
Who is the market leader and what is their estimated market share?
Sales Coverage Evaluation
#1 Coverage of the Top 50 Metropolitan Statistical Areas
#2 Average active accounts per territory
#3 Market penetration comparison
Identify potential customers in the market though a standardized source
(trade association, SIC number or such)
Divide the number of customers by dollar sales.
Result is the Dollars per Customer.
Use this figure to compare market penetration between territories.
Distribution channels.
What is the call pattern for the product?
Who makes the decision?
Who makes the purchase?
What other channels might be involved?
Who can influence the sale?
Sales Cycle
What is the selling cycle for key products?
Is this a major purchase for the average prospect?
What is the buying process for an average customer?
How long does it take a prospect to complete the process and make a purchase?
Commissions
What should a sales person earn?
Will that level of income earn sufficient attention from the sales professional?
What must they sell to earn that income?
What is the average/mean sales earning currently?
Is this a Mortgage Line or a Vacation Line?

The lines that pay for a sales professional's mortgage get primary attention. Smaller line may make a car payment or pay for an annual vacation. In the salesperson's world, these lines are going to get less attention. Is your product line a mortgage line or a vacation line You need to be realistic on this to set accurate sales expectations.
Competition
How many sales associates does the market leader have?
Is this typical for the niche?
Summary
This information is not the Strategic Plan. It guides that plan. It suggests topics to discuss and resolve before setting the objectives and building that plan. Identifying weakness does not mean accepting them and building around them. It means exploring and addressing them before the plan.
Until the above elements and been collected, reviewed and discussed, you are not ready for the creative portion of the plan.
---
The Role of New Products
New products are important because they generate sales.
Not because they are 'new,' but because of the dynamics that surround them.
There are five things that happen with a product launch that make them successful.
In order to maximize the effect of a new product, Marketing and Product Development must manage the launch to achieve the benefit of these five elements.

#1. New products make a company vital and relevant in the marketplace
It helps the company attract attention.

#2. New products give a reason for a sales associate to make calls.
It is a new story and a new reason to talk to key accounts and prospects.
They revitalize the sales force.

#3. New products give the customer a reason to spend time with the sales force.
Customers need and want to stay on top of market developments.
They want to learn about new product opportunities.

#4. New products force prospects to evaluate:

Their current product offering. Is it better, worse or same as what they are currently using;

Their current manufacturer. Are they regularly doing new and interesting things? Are they leading the industry?

Their current rep. Does the current rep bring new opportunities by?

Have they seen their current rep recently? How do they compare with this new guy?

#5. New products provide a sales spike.
If only due to trial from key accounts and rep relationships. Some sales spikes sustain, others don't. But new launches generate short term sales results due to the above four points.
Effective Product Launches
New products should be planned based on maximizing these five factors.
It takes considerable time, money and creative talent to develop a new product.
Product Managers deserve a sales force that maximizes these efforts.
Take each new product very seriously and provide it sufficient support to be effective.

Rule #1: Product launches are money. Do not delay them. When they are ready – go!
Therefore it is the responsibility of Product Development to schedule development to coincide with market opportunities. Missing market opportunities with launch delays will reduce the success of a launch. Plan the calendar and hit the deadlines.
Launch Planning
1) Pre-Launch Testing
Testing is necessary for the Product Manager to evaluate performance.
But there is also a sales effect. When possible, test products through key accounts. Engage your customers. Let them feel involved and respected. Give them ownership of the product. Their initial orders (based on their participation) are the foundation to a launch.

2) Pre-Launch Evaluation
Take prototypes to Trade Shows to 'share' with key accounts. Don't sell them.
Talk about them. Ask opinions. Share discreetly. Let the key accounts feel the importance of their opinions.

3) Trade Show Introduction
Time product launches for major trade shows. Hitting these deadlines is the responsibility of Product Management. Launches are significantly weakened when you miss a major gathering with the chance to create industry buzz. What are your two most important conferences of the year? Every year, plan to introduce something new at them.

4) Field Launch
The field launch must be coordinated and complete.
That means the reps receive everything they need to successfully place the product. They receive it completed and together, including:

Samples

Product Profile What is the product and what does it do?

Training (live, webinar, printed, binder, teleconference)

How is it different than the competition?
Provide a competitive matrix showing product comparisons, including price.

Technical training. How does it work? How to you apply it?

What is the sales strategy? What do people buy?

Sales support materials
Specifications
Sales literature
Ordering forms

Marketing
Inbound Marketing launch
Social Networks Launch
Product Announcements
Trade Show impact
Price sheets
Web Site Introductory campaign

Customer Service training
Full, hands-on awareness of the product

Sales Rep Expectations
Dollars & Units for first 90 days (preferably by Key Account) Key Account time frame
Perhaps a contest, promotion or incentive
Offer recognition for performance
Induce competitive spirit
Measure and report

5) 90 Day Time Frame

Focus on the launch long enough for it to succeed.
In that time frame the expectation is that every sales person will simultaneously be in the market promoting the new product.

This kind of national activity generates 'buzz.'

It assures that every rep is learning to sell the product. They need to present it a few times to learn how to sell it. If they don't do that now, it may never become part of their repertoire.

It takes time to digest the materials, build confidence, schedule and visit all key accounts and prospects. During that time frame, don't distract the sales force with other launches, promotions or requirements. Focus on seating the product in the product arsenal. Otherwise, you aren't getting the full bang for your R&D dollar.

If new products take about 90 days to generate their effect, it stands to reason that four major product launches a year are about all the sales organization can emphasize.
---
There are all kinds of sales literature that play different roles for the sales professional. It is important that you understand what Sales needs to be successful and deliver them the appropriate tool. Here are some considerations.
Catalogs
This is a primary sales tool and is often misused.
Catalogs bring the entire line together, so management loves them.
Often four color and multiple pages, they are expensive to create.
They can also go out of date fairly quickly (as soon as a new product is introduced).

Key Message: The key message of a catalog is the breadth of the line.
It shows buyers everything they can get from the manufacturer. Catalogs help customers reference other 'commodity' products offered by the company that don't receive sales focus.

Vulnerability: Because it includes so many products, the information is typically short and specification driven. Product sell is usually minimal. Due to the size, it is awkward for the sales person to reference and use. It is expensive to give away (particularly to unqualified leads).

User: Catalogs are a good tool for customers to reference product number, specifications and order procedures. Typically the catalog is filed away for reference by someone placing an order with the company. It is not used by the decision makers.

Summary: Catalogs are for a buyer's ordering convenience. They are not for Sales to opening accounts. Before you invest all that money on 24 pages of 4 color, make sure you have the tools Sales needs to generate new business.

Sales Sheets
Sales sheets are a single page, front and back. They focus on the key selling proposition of the product. They are a very powerful tool in the hands of the rep to add visuals, bullet points and credibility to the presentation. Sales sheets are single minded, focused on a single product and selling it. They are inexpensive to handout.

A secondary benefit of the sales sheet is for training the sales force. If a rep hasn't emphasized a particular product for awhile, the sales sheet reminds them exactly how to sell it. The sales sheet is the selling strategy.

Brochures
Multiple page (four or eight page) brochures give extra strength and credibility to a lead product or a product category. They offer more production value than a sales sheet, so are saved for more profitable segments of the line. They require the additional space to present multiple products within the segment.

Otherwise, brochures work much like a sales sheet.
---
The problem with the MBA approach is that it is too academic for the speed that most companies move. In the exercise, they'll spend quite a bit of time on the analysis and attempting to articulate something the entire executive team knows intuitively. Once they finally articulate it, they have the statement, but haven't made any real progress towards growing the company.
As a Strategic Outsource, Stratcom will lead the analysis, spending time focused on the opportunities. The critical path will look at:
Internal Review and Analysis (SWOT)
Statistical Sales Performance Review
Product Status
Sales Coverage Evaluation
Sales Cycle
Commissions

External Review and Analysis (PEST)
Marketplace Review
Distribution channels.
Key Account Review
Competition

Strategic Plan Elements

Sales Training
Regional Sales Management Guides
Effective Product Launches and Launch Planning
Sales Literature
Search Engine Marketing (SEM)
Social Network Strategies
The end result will be a well grounded annual plan based on sales objectives and growth targets a quarterly implementation guide.


Stratcom is available to manage the plan on a monthly basis.